PROJECT NUMBER:  18-2
PROJECT TITLE: Framework of Asphalt Balanced Mix Design (BMD) for New England Transportation Agencies
PRINCIPAL INVESTIGATOR: Walaa Mogawer, University of Massachusetts Dartmouth
STATUS: Open
AGREEMENT TERM:   2/5/2019 – 6/30/2020
ANTICIPATED COMPLETION: 6/30/2020
(Click to enlarge.)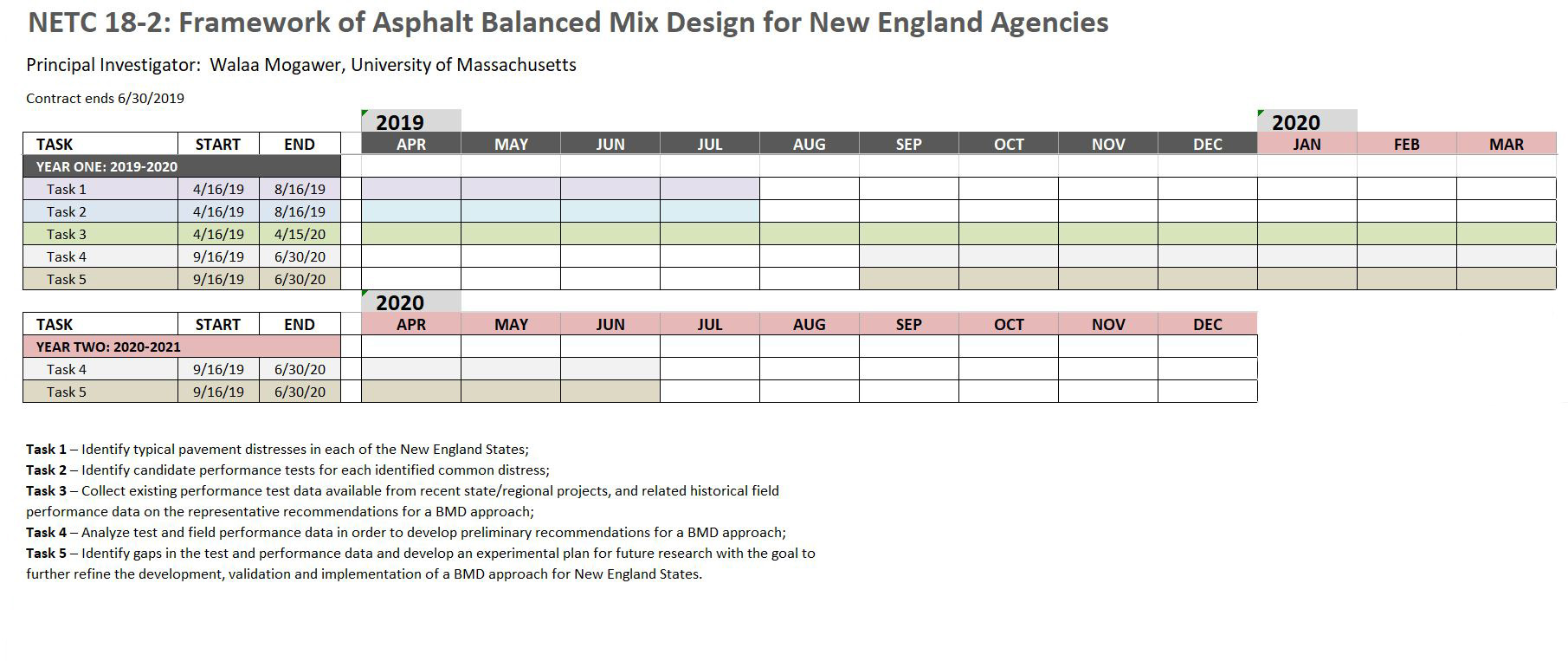 PROJECT OBJECTIVES: 
Synthesize existing data and develop recommendations for a rational balanced mix design (BMD) approach for use by the New England transportation agencies.
Gaps in testing and performance data will be identified through this project and an experimental plan for required future work will be developed.
REPORTS/PAPERS PUBLISHED, PRESENTATIONS MADE RELATING TO THIS PROJECT FROM THE START OF THE PROJECT: None thus far.
QUARTERLY PROGRESS REPORTS: 
TECHNICAL COMMITTEE MEMBERS:
TC Chair: Ann Scholz, New Hampshire Department of Transportation
Michael Byrne: Rhode Island Department of Transportation
David Howley: Connecticut Department of Transportation
Matthew Courser: New Hampshire Department of Transportation
Ed Naras: Massachusetts Department of Transportation
Derek Nener-Plante: Maine Department of Transportation
Aaron Schwartz: Vermont Agency of Transportation
AC Liaison: Ann Scholz, New Hampshire Department of Transportation